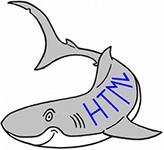 Themes for WordPress
---
---
What is it all about?
The way to control the layout and functions in
WordPress
is by using themes, that are downloaded and adjusted according to what you want and need. WordPress comes with the default themes
Twenty Twenty
,
Twenty Nineteen
and
Twenty Seventeen
, that are used for blogging. Twenty Twenty is the active theme. Here it is "just" a matter of figuring out what you need, e.g. a webshop, and choose a suitable
theme
. There is a ton themes available for download for various purposes, and there is a myriad of sites that want to tell you which themes they think are the best and why. Here you have to make your own decision by trying out the themes until you find something you like. You can easily change, add or remove themes, so there is no reason to worry about being stuck with a particular theme.
How to install a theme
Let's say we have found a theme we like, e.g. the blogging theme called Hemingway. Under the menu item Appearance you click in Themes, after which you can see three themes as large icons: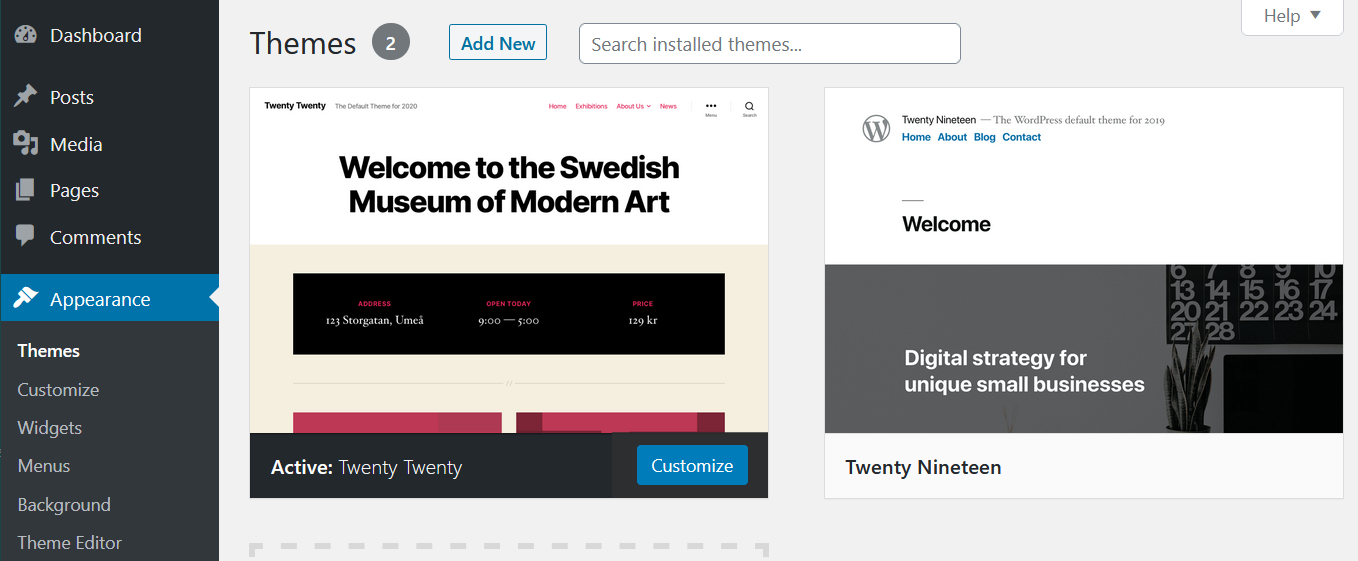 At the top at the header Themes there is a button "Add New". When clicking this, you get to a page, where you have a couple of options for searching for themes: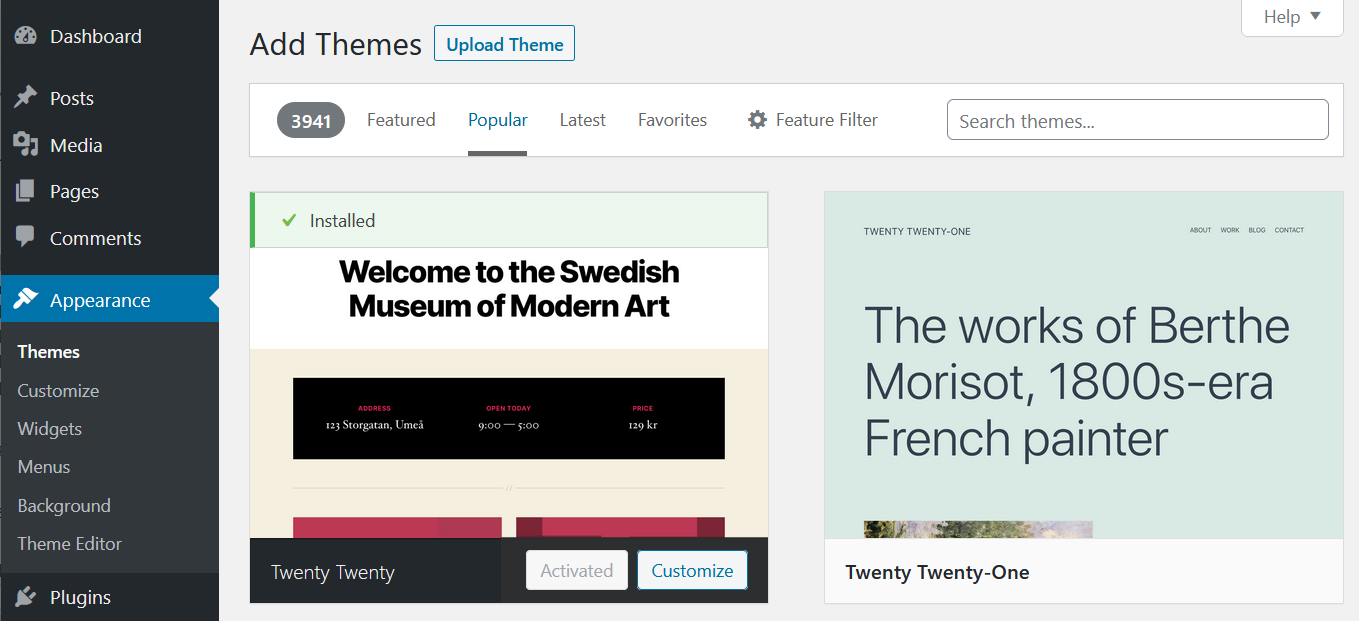 If we search for Hemingway, the theme appears on the page, and on mouseover you get the choice between install and preview: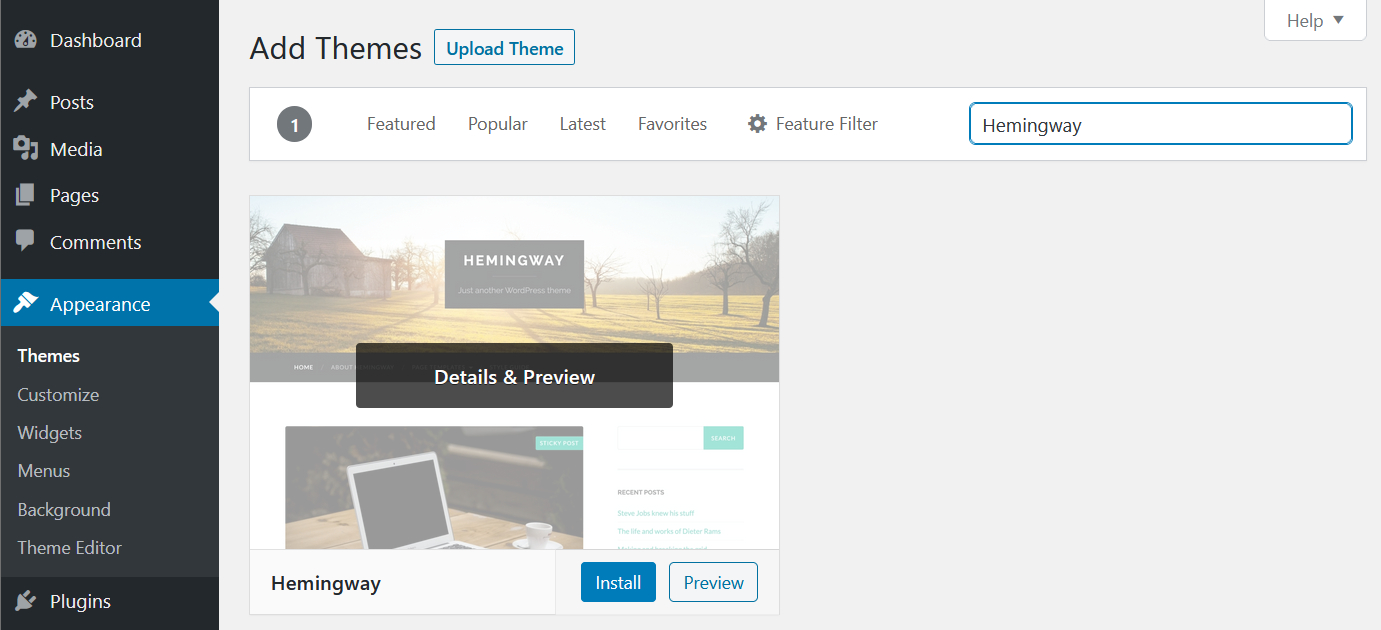 The preview can give you an idea about what the pages are going to look like, but you really don't know how it is going to look, when you have installed the theme. So, by pressing the button "Install", the theme is installed, and now you can choose between the buttons "Activate" and "Live Preview".

The theme Hemingway can now be activated by clicking "Activate", and the theme is now on the list of themes.
How to remove a theme
Keeping your site neat and tidy is always a good idea, even regarding the things in the background. So, you remove things like themes that aren't being used.
How to remove themes is slightly hidden. Under Themes you click on the large icon for the theme you want to remove, and it opens up. This is the theme Twenty Nineteen: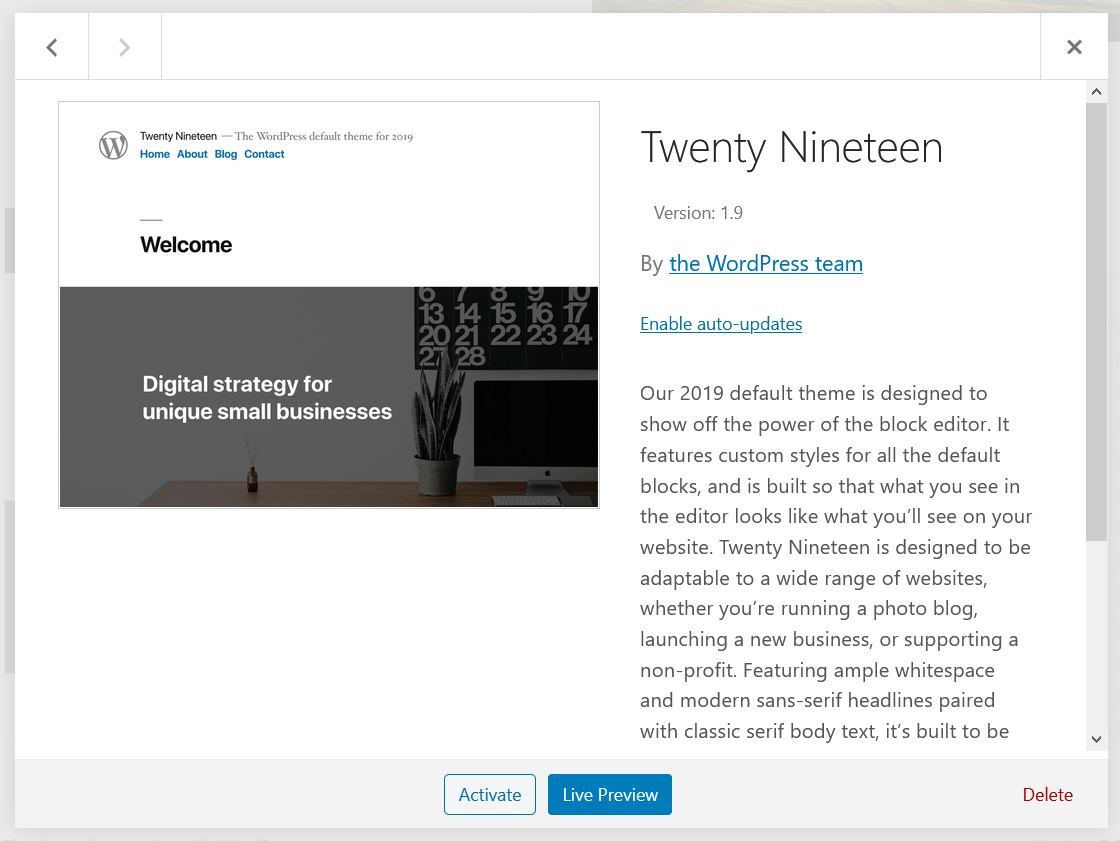 Discreetly placed in the lower right corner is a button marked "Delete" (it does not light up, so you can't see that it is a button, until mouseover). This one you click, and then click "OK", on the appearing pop-up, where you have to confirm that you want to delete the theme.